Podiatry
Podiatric Medicine is a health sciences profession, dealing with the diagnosis and treatment of conditions affecting the human foot, ankle, and their related structures, including the leg and the local manifestations of systemic conditions. In essence, podiatry is the study, care and prevention of foot conditions that disrupt the daily lives of both adults and children.
What is a podiatrist?
A podiatrist is a Doctor of Podiatric Medicine (D.P.M.), or in other words, a foot and ankle doctor. The foot is a complex part of your body, consisting of 26 bones and hundreds of ligaments, tendons and muscles. A podiatrist is a highly trained specialist who can diagnose, treat, and help maintain your feet in a healthy condition.
In order to obtain the Doctor of Podiatric Medicine designation (D.P.M.) and begin practicing, podiatrists take, in general, eight years of post-secondary education, including a four year undergraduate degree, followed by four years of specialized podiatric medical education. Podiatrists in Canada principally attain their schooling in the United States.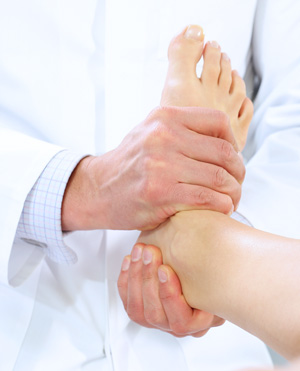 In addition to their Doctor of Podiatric Medicine (D.P.M.) degrees, the doctors at Associate Foot Specialists Clinic also completed two years of post-graduate residency training in foot surgery and diabetic foot care.
Upon completion of their Doctor of Podiatric Medicine (D.P.M.) degree and residency, comprehensive Board exams are written before being licensed to practice.
In addition, continuing medical education courses keep podiatrists up-to-date regarding new developments in podiatric medicine and foot surgery.
LOCATED IN MISSION
South of 17th Avenue
Suite 1520, 1800 – 4th St. SW